On Saturday, 4th December 2021 at Nyarugenge campus within the college of science and technology, AERG celebrated its 22nd birthday of being a big and supportive family among the students and staff of the UR campus.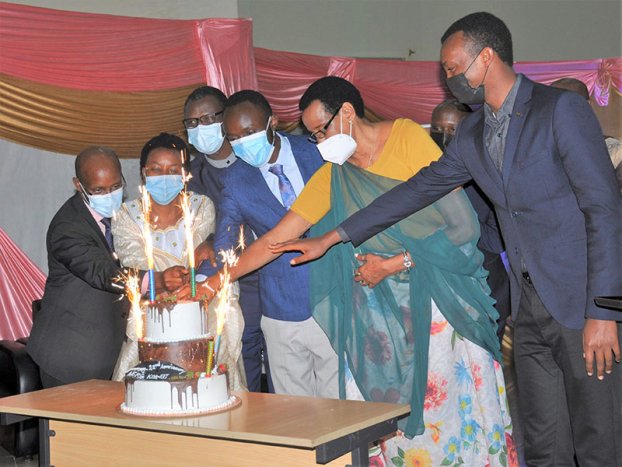 Members of AERG Nyarugenge campus and invited guests while cutting the cake in cerebration of 22 years of Anniversary
The UR Deputy Vice chancellor for Strategic Planning and Institutional Advancement Dr. Papias Musafiri opened a speech expressing his gratitude and happiness on being able to attend and celebrate this birthday with the students. He kept on saying that he is very pleased to see how happy, talented and motivated they were.
"People who don't know the AERG family tend to think that it is an association of people who are together because they share solitude, sorrow and unhappiness. What they don't know is that there are a lot of good deeds and courageous acts that you have done", said Dr. Papias Musafiri.
The event comprised of different leisure activities such as traditional dances, talent shows from AERG members and a drama that talked about the Genocide against the Tutsi.
In the name of the Ministry of UBUMWE BW'ABANYARWANDA, Dr. Assumpta Muhayimana delivered a message saying that she is very thankful for the impact AERG had on keeping the history of Genocide against the Tutsi.
"We are very thankful for the impact you had in breathing in the life in all this people that suffered the outcomes of the genocide against the Tutsi, those who lost their family, had you in the most difficult times, we are immensely thankful for that." Said Dr. Assumpta Muhayimana.
The coordinator of AERG, Muneza Emmanuel reminded the students that are part of the association to keep the good spirit and determination they showed on the stage. He added on saying that whatever they do, they should keep the good work academically as well as in life.

Story by
Alida Ngabonziza (Intern in Communication Department)